Brisbane Lockdown Lifted; South Korea Cases Wane: Virus Update
China said an expert team from the World Health Organization will visit on Jan. 14 to investigate the origins of the coronavirus, following a rare rebuke last week from the global health group over a delay in travel permits. Beijing's move to prevent the spread of infections to the capital city from nearby Hebei is triggering a spike in food prices.
Germany called on its citizens to drastically curtail social contact after the nation's death toll climbed above 40,000. France said it's not planning a new lockdown for now, but is monitoring the situation "very closely."
The Philippines is targeting to vaccinate its entire population of more than 100 million people by 2023 as it finalizes deals with vaccine suppliers. Malaysia said it will buy an additional 12.2 million doses of the Pfizer-BioNTech vaccine, taking its supply to 25 million. That's enough to inoculate 39% of the population.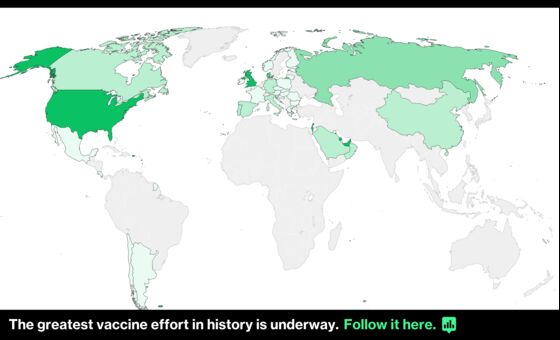 L.A. Turns Dodgers Stadium Into Vaccination Hub (3:45 p.m. HK)
Los Angeles, the epicenter of the latest wave, will turn Dodgers Stadium from the country's biggest Covid-19 testing site into a mass vaccination center to inoculate as many as 12,000 people a day.
The stadium will cease being a testing site Monday, with the transition taking place by the end of the week.
The Greater L.A. area, where one in 11 have been infected, has tested 5 million people, or about half of its population. With a surge in cases, Southern California and other parts of the state have run out of ICU capacity.
"Vaccines are the surest route to defeating this virus and charting a course to recovery," L.A. Mayor Eric Garcetti said.
Bulgaria Sees Fewest Cases Since October (3:43 p.m. HK)
Bulgaria reported 105 new virus cases on Monday, the lowest number since October 11.
The Balkan country imposed a partial lockdown at the of end-November to contain the virus after reaching the highest death rate in the European Union. Last week, it reopened elementary schools, and authorities are considering options to ease restrictions further.
France Not Planning New Lockdown for Now (3:41 p.m. HK)
France continues monitoring day-to-day Covid-19 situation "very closely" and is taking necessary measures to protect health of its citizens, government spokesman Gabriel Attal says in radio interview on Europe 1.
French "made many efforts" and took steps early on, and while there are no current plans for a new lockdown it's not "time to lower our guard," Attal said.
Attal said France would meet its target of vaccinating 1 million people by the end of January.
German Minister Urges Less Social Contact (3:30 p.m. HK)
German Health Minister Jens Spahn said citizens need to drastically curtail social contact, after the nation's virus death toll climbed above 40,000 over the weekend.
"It doesn't make much sense to close down shops, schools and public life if at the same time there are many private contacts happening," Spahn said in an interview with ZDF television. "I know it's tough, but especially in the private sphere it's very, very important to reduce contact in the next few weeks," he said.
Tighter restrictions on movement and private gatherings take effect Monday, and schools and non-essential stores remain closed. The numbers of infections and fatalities have roughly doubled since the end of November, rising to nearly 2 million and almost 41,000 respectively. Spahn said Germany's vaccine program, criticized for being too slow, will accelerate once a Moderna Inc. shot is delivered to the 16 federal states on Tuesday.
Tokyo Suffers 7th Day of Cases Above 1,000 (2:48 p.m. HK)
Tokyo found 1,219 new coronavirus cases on Monday, the local government said, marking a seventh straight day of more than 1,000 daily infections.
Japan's government called on the public to stay home during a three-day weekend that includes Monday, but the nation's second state of emergency in Tokyo and surrounding prefectures appears to have failed to reduce foot traffic as effectively as during the first in April, Yomiuri reported earlier.
Indonesia Extends Travel Ban for Foreigners (2:52 p.m. HK)
President Joko Widodo agreed to extend the ban for foreigners to enter Indonesia for two weeks to Jan. 28, the Cabinet Secretariat said in a statement.
The ban was set to end on Jan. 14 in a response to new coronavirus strain.
Malaysia Secures More Vaccine Doses (1:08 p.m. HK)
The country will buy an additional 12.2 million of the Pfizer-BioNTech coronavirus vaccine, the Health Ministry said in a statement on Monday.
Latest order ramps up availability to 25 million doses, enough to inoculate 39% of the population. Malaysia will begin receiving its first supply of Pfizer vaccines end of next month.
Pakistan's Second Wave Peaked in December (12:41 p.m. HK)
Pakistan's hospital admissions and deaths have declined after peaking in December, Asad Umar, the planning commission minister who's leading the nation's virus nerve center, said in a Twitter post.
The nation announced last week is would reopen schools in phases from January 18. Pakistan has seen about 505,000 infections and 10,500 deaths from the virus. Deaths have declined for three straight weeks.
Algeria Authorizes Russian Vaccine (12:40 p.m. HK)
Algeria granted emergency use authorization to Russian coronavirus vaccine Sputnik V, the Russian Direct Investments Fund said in a statement.
Philippines to Vaccinate Population By 2023 (12:17 p.m. HK)
The Philippines targets to vaccinate its entire population of more than 100 million people by 2023, officials said.
Vaccine rollout may start as early as February, although bulk of the inoculations will begin in the second half of 2021, vaccine czar Carlito Galvezsaid at a Senate hearing Monday.
The government is finalizing supply deals with AstraZeneca Plc., Serum Institute of India, Pfizer Inc.-BioNTech SE, Johnson & Johnson, Sinovac Biotech Ltd., Moderna Inc. and Russia's Gamaleya National Center of Epidemiology and Microbiology, he said.
Thai Premier Asks Agencies to Cut Costs (10:35 a.m. HK)
Prime Minister Prayuth Chan-Ocha has asked all government agencies to cut costs and cancel or delay any unnecessary projects as the Covid-19 outbreak has curbed revenue.
Try to maximize spendings and consider other source of fundings apart from government budget including setting up funds and public-private partnership, Prayuth says in a webcast briefing on Monday.
South Korea Sees Smallest Case Rise in 6 Weeks (8:49 a.m.)
South Korea reported 451 new coronavirus cases over the past 24 hours, down from 665 the previous day, according to data from the Korea Disease Control and Prevention Agency's website. It was the smallest increase since the end of November.
The number of daily cases stayed below 1,000 for a 7th day. The number of tests typically declines over weekends.
China Reports 85 Local Cases; 82 in Hebei (8:41 a.m. HK)
China reported 85 local confirmed coronavirus infections Jan. 10, including 82 in northern province of Hebei, 2 in Liaoning and 1 in Beijing, according to a statement from the National Health Commission.
Japan to Start Large Scale PCR Testing (8:14 a.m. HK)
The Japanese government will start large-scale PCR testing for the coronavirus in big cities as early as March, the Nikkei newspaper reported on Monday.
The test will be given for free at places such as college campuses, airports and hotels in Tokyo, Osaka and other major cities, the paper said without specifying where it got the information. By expanding testing, the government aims to gain a better grasp of overall infections including asymptomatic cases, according to the newspaper.
Australia to Lift Lockdown in Brisbane (7:34 a.m. HK)
Australia's Queensland state will lift the three-day lockdown on its capital city Brisbane from 6pm local time after zero new coronavirus cases were recorded overnight, Premier Annastacia Palaszczuk said.
Still, some restrictions will remain on the amount of people allowed in shops and restaurants, and masks must be worn in public indoor places places like libraries and supermarkets, she told reporters Monday.
The fourth Australia vs. India cricket test will likely go ahead in Brisbane as planned on Friday with ground capacity halved and spectators required to wear masks unless seated, Palaszczuk said.
Brazil Virus Case Trend Rises Further (6 p.m. NY)
Covid-19 cases in Brazil surpassed 8.1 million with the addition of almost 30,000 cases on Sunday, according to Health Ministry data. The death toll increased by 469 to 203,100.
The governor of Sao Paulo State, Joao Doria, called on Brazil's health regulator to show a "sense of urgency" about approving a vaccine made in partnership with China's Sinovac.
Pope's Personal Doctor Dies from Covid-19 (3:32 p.m. NY)
Fabrizio Soccorsi, 78, personal doctor to Pope Francis, has died, ANSA reported citing the Vatican media. He was hospitalized in Rome for cancer, though the cause of death was complications from Covid-19, the report said.
The pope chose him as his personal doctor in 2015. ANSA did not say if the two had recent contact. On Saturday, Francis said that getting a vaccine was an "ethical" obligation and that he would take one as soon as this week.